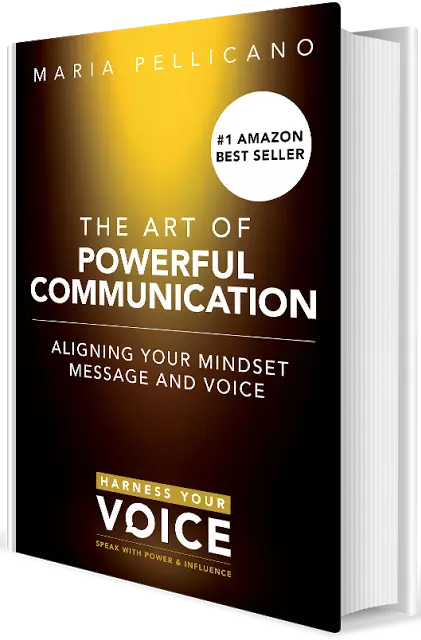 Vocal Coach and Public Speaker Trainer THE ART OF POWERFUL COMMUNICATION: ALIGNING YOUR MINDSET MESSAGE AND VOICE By Maria Pellicano
As voice coach, Maria Pellicano has worked with client's voices for over 20 years and knows that there are both physical and phycological reasons why your communication suffers.  
Do you wonder why other people can be so confident in their communication while all you want to do is hide?
Does your voice wobble, lack volume or do you run out of breath when you are nervous?
In this book Maria Pellicano will give you insights and experience as a voice coach and as human psychology coach.  Over the years Maria Pellicano has built powerful communicators to speak and sing with credibility and fearlessness.
In this book you will learn:
The tools to help you stand out from the crowd and be a confident speaker
How to transform nerves into certainty when speaking in public
The skills to develop and deliver a passionate unique message
How to use voice tonality to be an influential leader
The mindset strategies that empower your persona in your career and in relationships
How to deliver your presence on stages and platforms
When all three critical aspects of this model are aligned you will experience a powerful blend of persona, presence and a platform that can impact and provoke audiences to lasting action.
If you are stuck procrastinating, if you're struggling to get your words out, if you are afraid to stand on a platform and speak with confidence then stop wasting time, money and potential influence and get yourself the tools and skills you need to close these gaps in your communication.
The art of powerful communication book will help you negate fear and uncertainty to be an authentic unforgettable powerful communicator.
"Why you may be missing 75% of your potential prospects, simply because you're not communicating with them in the way they prefer. In fact, you may be turning them off completely without even realising it!" Brian Tracy.
"Maria is a burst of energy and efficiency and certainly makes an impact in all that she does. As a vocal coach she has deep knowledge to transform people's lives. Further, she is able to bring a range of solutions to the professional speaker ranging from vocal techniques to emotional issues arising from the voice and message. To put it simply, Maria is passionate about her work and brings her A game every day." Anita Noitz, Integrity and Values, Sydney.
Research shows that even politicians are being selected on their charisma more than the words they speak with.   Our audiences are reading between the lines and the perception they have about your speaking is a powerful influence on whether they will engagement with you.  
Your content must always be aligned with the tone of voice you use. Many people have not got the ability or control to choose the tone of voice they need to express.
"The only reason to master technique is to be sure the body does not interfere with the soul's free expression"—La Meri A.
The way you use your voice impacts your credibility, authority and that all-important attribute, believability.
"To convince people and speak with power and influence You must combine what you say and how you say it." Dr Gary Genard
Hard Cover
---
EBook
GET TWO CHAPTERS OF MY BOOK NOW!
My best-selling book will help you impact your audiences and conversations with passion, certainty and credibility! Enter your details below to download your
FREE two chapters of my book!
READ SOME OF MARIA'S OTHER PUBLISHED WORK
---
Great Questions Are Not Enough
eBook Now Available
Only when we truly love those we wish to coach, can we ask the question which makes the difference. Learn more on Maria's new eBook!
Only A$9.97
BUY NOW
LISTEN TO INTERVIEWS THAT FEATURE MARIA
---
Interview with Samantha Riley
Maria recently joined Stand Out Radio to discuss her work and how she can empower your communication.
Interview with Leanne Mulcahy
Maria recently joined Stand Out Radio to discuss her work and how she can empower your communication.
Find Your Confident Voice
Having the jitters for an upcoming presentation? Let Maria Pellicano, a vocal coach and public speaking mentor, help you find the confidence in your voice!